function MM_jumpMenuGo(objId,targ,restore){ //v9.0 var selObj = null; with (document) { if (getElementById) selObj = getElementById(objId); if (selObj) eval(targ+".location='"+selObj.options[selObj.selectedIndex].value+"'"); if (restore) selObj.selectedIndex=0; } }
What's New in the Shop
Spring/Summer 2009
---
DELIVERANCE
Designed by Doug Hylan for a long-time customer, construction of this 43′ powerboat continues. See Winter 2008-2009 What's New in the Shop for a couple of early photos.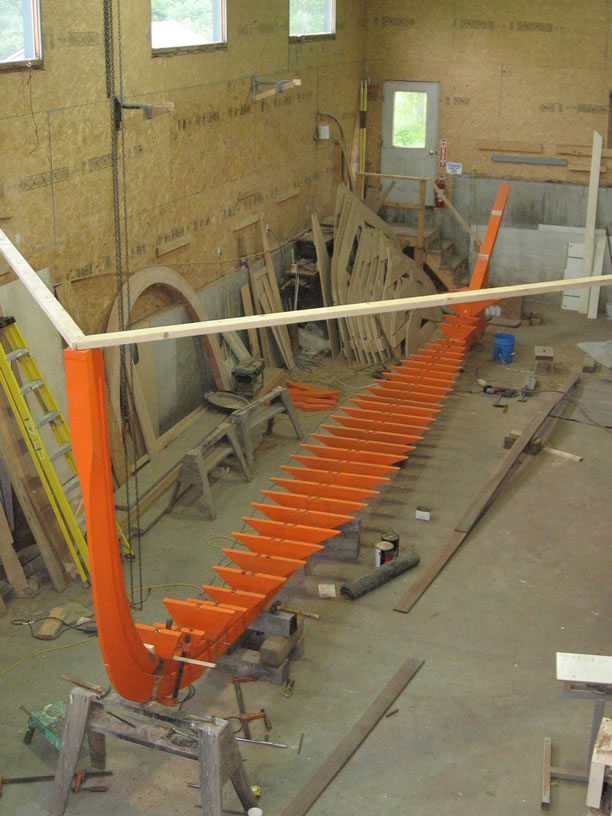 Here the various parts of the backbone–keel, stem, tailfeather, and floors–have been bolted together and the completed structure is being blocked and plumbed on the main shop floor. Steam-bent white oak frames will later be bolted to the numerous transverse floors to form a strong and relatively light-weight structure.
The temporary molds are erected on the backbone. These determine the overall shape of the hull, so they are carefully plumbed, leveled, and faired.
Here the horsehoe stern–previously laminated off the boat–is lowered into place, bolted to the tail feather. and temporarily attached to the rear-most molds.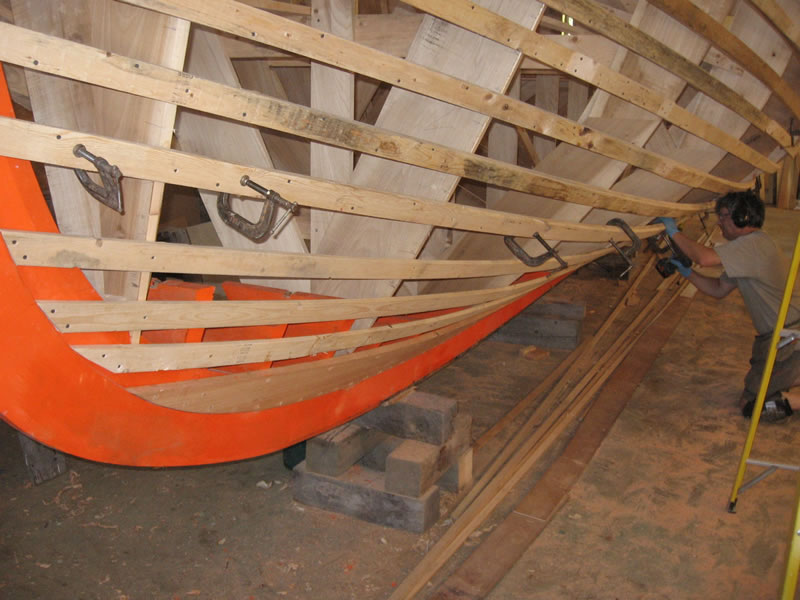 With the molds in place, numerous temporary ribbands are attached and the first piece of planking, the garboard, is shaped and attached. The planking is Douglas Fir.
The rear-most frames are double-sawn from locust and faired into the laminated horsehoe stern.
Forward of the horeshoe stern, the frames are white oak. They are steamed, bent into place, and temporarily clamped to the ribbands. When they have cooled a bit, the clamps are replaced by temporary screws.
Here we see DELIVERANCE completely framed and ready for planking. As planks are added, the temporary ribbands are removed. Confused? We'll add photos of the planking process as they become available.