A 34′ traditionally built day cruiser
Photo courtesy Maynard Bray
Click to see larger version of this photo
POSTHASTE IV is a 34 ft lobsterboat-inspired day cruiser.
Her owner, an experienced Maine yachtsman, came to us with the basic concept, which we then took from drawing board through construction to final launching and shakedown.
The cockpit provides a beautiful environment to explore the coast or simply enjoy an evening at anchor. A bronze wheel and custom helmsman's seat provide a traditional look, and full electronics were included: radar, GPS, depth sounder, and VHF. Varnished mahogany and oak complement the teak sole.
Satin varnish and a custom soft off-white are used extensively below decks. Large beveled glass windows–they're too large to really be called "ports"–add to the light and airy interior.
Looking aft from POSTHASTE's V-berth, a hanging locker and icebox (electric) provide plenty of storage for overnighting or weekending at a favorite hideaway cove. The step leading to the cockpit doubles as a toolbox.
The curved cabin sides were laminated from mahogany with inner laminations of Meranti plywood for stiffness and stability. They were then varnished inside and out. Curved windows were custom made for POSTHASTE with cut bevelled edges.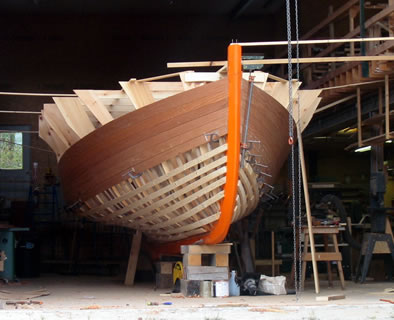 POSTHASTE IV was built in traditional lobster-boat fashion, with steam-bent white oak frames bent inside ribbands. The planking and backbone were both made from sustainably-harvested Central American hardwoods: the planking is Wana and the backbone is Angelique. As planking proceeds, the ribbands are removed. Planking started at the sheer and moved down the hull. Shortly after this photo was taken, we began planking from the keel up, leaving a "shutter plank" as the final plank to put on.
POSTHASTE's plan hints at her clean efficient lines, comfortable cockpit, and cruising accomodations for two.