A 29′ cold-molded lobster boat inspired by the 1950s classic DIANA
BRENDA KAY is a cold-molded reproduction of a 1950's Beals Island lobster boat. The original boat, re-named DIANA after a 2001 restoration here at Hylan & Brown – Boatbuilders, was designed and built by Alvin Beal in 1952. She plied the waters of Downeast Maine for nearly a half a century until she came to us for a complete restoration and conversion to yacht standards. Lines were taken and plans worked up in the hope that someone might be drawn to the classic lines and much-proven seaworthiness of the type.
In 2009 a customer from Virginia, having admired DIANA, commissioned a reproduction. To the eye BRENDA KAY is a perfectly accurate copy of the original, belying the modernization of her construction and equipment. Her hull–with 8" of additional beam for space and stability–is cold molded, and she is powered by a 110hp Yanmar diesel engine turning an Evolution Marine Shaft System.
BRENDA KAY won First Place for Professionally Built Powerboat at the 2010 WoodenBoat Show in Mystic CT. Official announcement in Sept/Oct issue of WoodenBoat magazine.
BRENDA KAY is perfectly suited to short cruises with her simple yet comfortable accommodations, and her cockpit provides ample room for guests on day trips. At speeds up to 16 knts she cruises with comfort, safety and traditional style.
LOA – 28'8"
Beam – 8'9"
Draft 2'3"
A few photos of BRENDA KAY's June 2010 launching
Click here to see photos of her launching day.
A few photos of BRENDA KAY under construction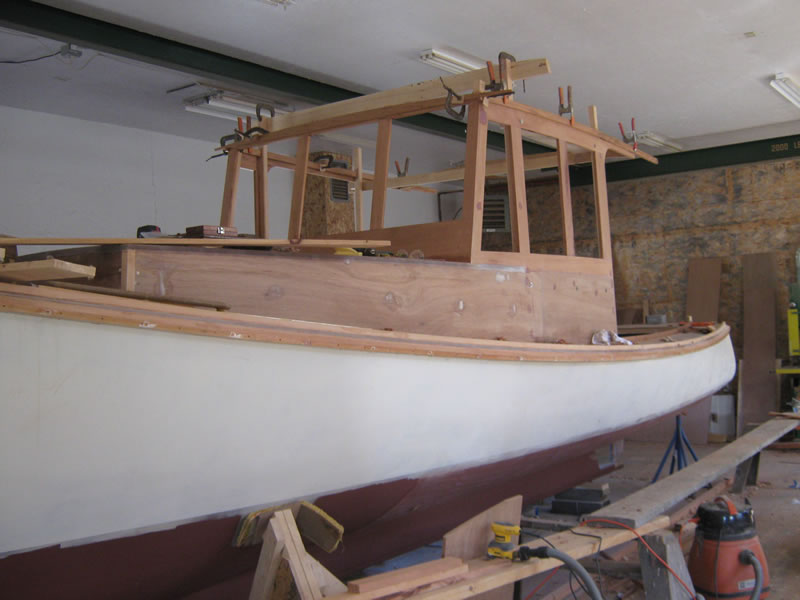 The superstructure under construction.
The first layer of red cedar veneers is epoxied to the strip planking. On the right side of this photo is the laminated keel. It will be installed after the hull is flipped over.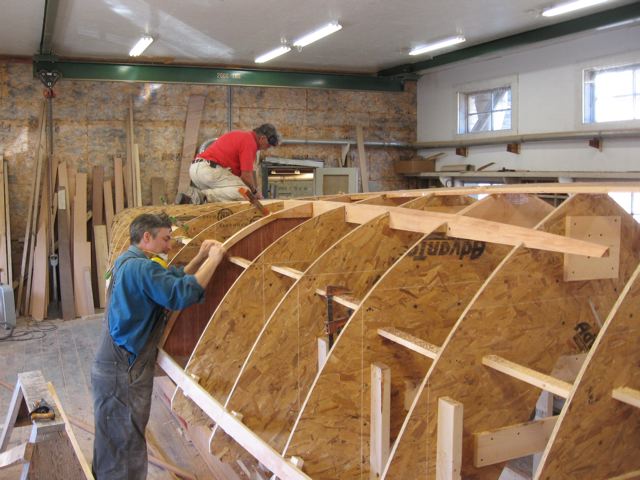 The setup is carefully faired prior to planking.