A 19'7″ Vee bottom boat
A fine outboard, smooth riding, seaworthy, and rugged.
In the northern Bahamas, the Albury name is synonymous with boatbuilding. For generations, this family has turned out hundreds of boats, from dinghies to schooners, from their building sheds on Man O' War Cay. For almost 40 years Willard and Benny Albury have been producing fine outboard runabouts that have earned a reputation as smooth riding, seaworthy, rugged boats, capable of excellent speed with modest horsepower. These plans represent what Willard Albury considers to be his optimal boat, the best of over 250 individual boats.
Doug Hylan has drawn a set of plans that not only documents the construction of these fine boats, but makes it possible for other builders to enjoy their good qualities. The lines show a moderate deadrise of 15 degrees with a fine entry, producing an easy ride even in the short, steep chop common in the shallow waters of the Bahamas. Construction is robust but simple and clean, making these boats easy to maintain and long lived.
Glued strip planking over frames sawn from natural Madeira root knees was the original construction, but most builders today will probably find it easier to laminate their frames. For those who would prefer cold molding, a construction sheet is included for this method. Lofting is required, but this is not a difficult set of lines to lay down.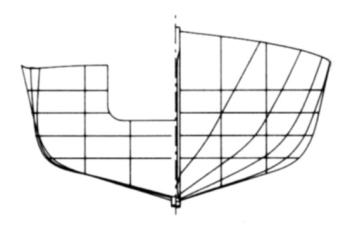 Plans are on 6 sheets, including lines, original construction, cold molded construction, and details. Calculation for U. S. Coast Guard safe powering, load capacity, and flotation requirements are included. WB Plan No. 136, $90.00.
PARTICULARS
LOA 19′ 7″
LWL – 17′ 9″
Beam – 6'10"
Draft – 13″
Disp. – 2400 lb.
Hull type – vee bottom runabout
Construction – Strip plank over grown or laminated frames
Suitable for – Somewhat protected waters
Intended capacity – 2 to 7 day cruising
Trailerable – yes Propulsion – 40 to 120 HP outboard
Skill needed – intermediate
Lofting required – yes Alternative construction – cold molded, plans included Level of detail – above average
Cost per set – $90.00
OTHER REFERENCES -"The Alburys of Man O' War Cay" WoodenBoat 135:44.
PLANS
FAQ