This is a larger version of my BEACH PEA design, made at the request of a customer who wanted a boat big enough to hold his growing family. While BEACH PEA is big enough to carry two adults and two medium children, three adults should be considered the limit in rough conditions. The Benjamin River pod is 6" longer with 4" more beam and should easily carry four adults through rough water, 5 or even 6 in calm conditions.
This boat was designed from the start with a CNC kit in mind, and the plans reflect that. You can build this boat without purchasing the kit, but some simple modifications would want to be made, and a few more boatbuilding skills are required. These are outlined in the Specifications sheet.


As with BEACH PEA, I've tried to include traditional detailing to the extent possible with
modern glued lap construction. But I have included flotation compartments in the
Benjamin River pod, welcome in the unlikely event that the boat gets swamped.
This boat uses the same construction as BEACH PEA, so the How-to-Build series in
WoodenBoat magazine (issues 133, 134, & 135) will apply.
PARTICULARS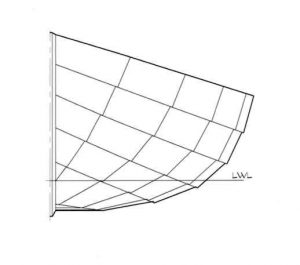 LOA – 13′ 6"
LWL – 11′ 3"
BEAM – 4′ 6"
DRAFT – 6"
HULL TYPE – Round bilge glued lapstrake
WEIGHT – Approximately 120 lb.
SAIL AREA – 62 sq. ft.
CONSTRUCTION – Glued lapstrake plywood
SUITABLE FOR — Somewhat protected waters
TRAILERABLE – Yes
SKILL LEVEL REQUIRED – Beginner
LOFTING REQUIRED – No
KITS
RELATED LINKS
STUDY PLANS
Click here to download free study plans in PDF format.
PURCHASE PLANS
PLANS SHEETS: On five sheets: sail & lines plan, construction plan, building jig, two full
size patterns. Plans are sent US Priority Mail, rolled in a cardboard tube.
To order online using Paypal's ordering system (which accepts Visa/MC/AmEx/Discover/eCheck/PayPal), please select one of the following buttons:

U.S. orders. $100 + $20 shipping = $120

---

View your Paypal Cart at any time by clicking the button below:
You can also order plans by sending a check or money order to Hylan & Brown – Boatbuilders, 10 Frank Day Ln, Brooklin, ME 04616
Many questions are answered in Frequently Asked Questions. Please check there first.