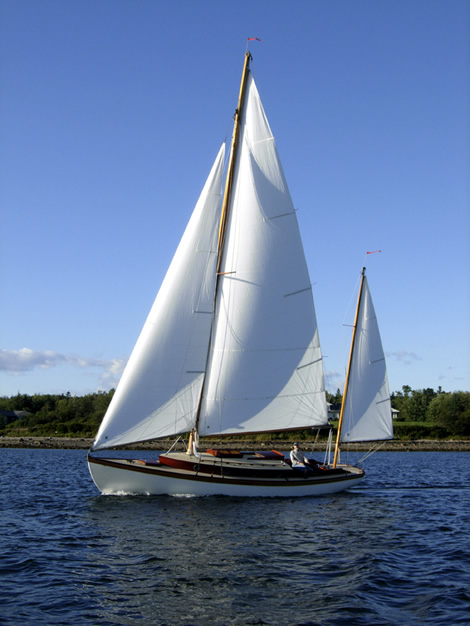 Photo courtesy Maynard Bray
Designed and built by Herreshoff Manufacturing Co. in 1926, AIDA is a 33′ centerboard yawl. Both interior and exterior were fully restored, sensitive to Herreshoff techniques, restoring the boat as much as possible to "as built" condition. Refinished spars, a new diesel, and new sails were also part of the first major refurbishment of the boat since launch.
Prior to her recent sale, AIDA was owned for over 40 years by Herreshoff historian and author Maynard Bray and his wife Anne. Bray oversaw the restoration of AIDA together with the owner's representative, Steve Corkery, from Shelter Island.
AIDA's specifications are:
LOA – 33'6″
LWL – 27'0″
Beam – 9'2″
Draft – 3'1″ (centerboard up)

Photo courtesy Maynard Bray
AIDA is relaunched, ready for her next 80 years of sailing.
A few photos of the restoration
In this photo, new Herreshoff-style white oak molded sheerstrakes and covering boards have been installed and the wooding and refinishing of the topsides is proceeding. The original sheerstrakes were heavily damaged in the great 1938 hurricane which lashed the coast of New England.
The furniture and ceiling are removed from the interior so that new steambent frames can be installed. The planking, however, was in excellent shape and almost all of it (except the sheerstrakes) was retained. The boat is planked in the usual Herreshoff style, with double-planking above the waterline and single-planking below.
New keel, frames, floors, and the beginnings of the new centerboard trunk. Because AIDA's floor and frame end bolts were originally made of iron, the entire centerline structure needed to be replaced.
After the structural work is complete, the interior is repaired as necessary, refinished, and reinstalled.