Chesapeake Deadrise Skiff
This boat is a larger version of my popular POINT COMFORT 18, a traditional Chesapeake Bay workboat type reinterpreted for simpler and more modern construction. Like her smaller sister, this design is drawn to use plywood – in large pieces where possible (roughly three quarters of the boats hull), and in small pieces where necessary to get the Chesapeake deadrise bow form. Construction should prove relatively quick and straightforward.
The hull is built upside down over molds and a ladder frame. Heavy 3/4" plywood is used for planking which allows a hull with little internal framing.
This type has proven to make excellent use of low horsepower – in fact, big motors are not recommended. Fifty horsepower should give 20 knots, but this boat will carry a good load at rewarding speeds with as little as 25. Sixty horsepower should be viewed as the upper limit.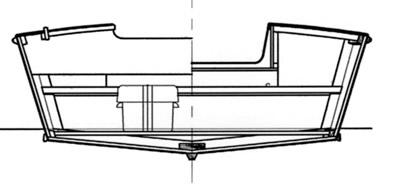 Included are details for a cabin version and an awning top – the two could be combined for spartan cruising for those with sufficient pluck.
The plans consist of eight sheets: Lines, Outboard Profile, Construction Plan, Optional Cabin configuration, Building Jig, and three sheets of full sized patterns.
The POINT COMFORT skiffs give one of the best combinations of quick and easy building, soft riding, and fuel efficiency I have ever encountered. It will give a smooth ride in the kind of small chop that would knock your fillings loose in a flat bottomed skiff, and get a big load delivered in good time with a tiny fuel bill.
PARTICULARS
LOA – 23′ 1"
LWL – 21′ 10"
BEAM – 6′ 10"
DRAFT – 7" motor up
Weight – Approximately 1500 lb.
HULL TYPE – Chesapeake deadrise skiff
CONSTRUCTION – Plywood
SUITABLE FOR – Somewhat protected waters
TRAILERABLE – Yes
PROPULSION – outboard motor, 25 to 60 hp.
SPEED – Up to 12 to 25 knots, depending on motor and final weight.
SKILL REQUIRED – Intermediate
LOFTING REQUIRED – No, full size patterns included
PLANS SHEETS – 8 sheets, above average detail
STUDY PLANS
Click here to download free study plans in PDF format.
PLANS
PLANS SHEETS – 8 sheets including full size patterns
TO ORDER PLANS:
To order online using Paypal's ordering system (which accepts Visa/MC/AmEx/Discover/eCheck/PayPal), please select one of the following buttons:


You can see your Paypal Cart at any time by clicking the button below:

You can also order plans by sending a check or money order to Hylan & Brown – Boatbuilders, 10 Frank Day Ln, Brooklin, ME 04616
Many questions are answered in Frequently Asked Questions. Please check there first.