AUK – Point Comfort 23 (Electric)

AUK is a Doug Hylan Point Comfort 23 hull optimized for modern electric propulsion, featuring reduced weight, a custom "solar t-top", and convenient battery lockers.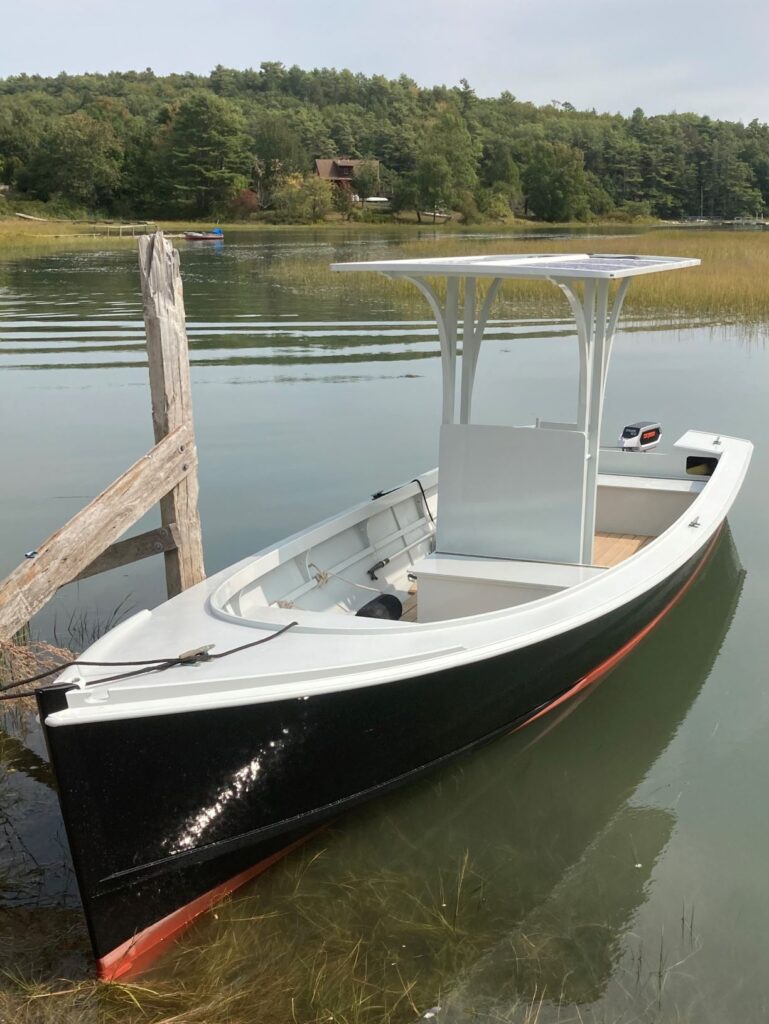 Displacement -1700 lbs
LOA – 23' 1"
LWL – 21' 10"
Beam – 6'10"
Drive – Torqeedo Cruise 10.0
Batteries (2) – Torqeedo 48-5000
Top speed – 16 mph
Range at full throttle – 9mi
Range at 5 mph – 35mi
In early 2020 AUKs owner asked us to propose an existing Hylan design that we felt would maximize the potential of the latest electric outboard technology and meet the following criteria:
Top speed of 12-14 kts single handed.
Seating for 6-8 occasionally.
Range of 20-30 miles at lower speeds.
A solar array capable of a full charge over five days on the mooring.
Easy trailerability
Doug offered his Point Comfort 23 as the best candidate, and with the help of Ocean Planet Energy we selected a Torqeedo Cruise 10.0 motor powered by a pair of their 48V 5000W batteries. With access to 120V service the batteries can be charged from flat in about 6 hours with the Torqeedo 48-5000 fast charger. For charging on the mooring and extending range, Ocean Planet Energy recommended (4) Solbian SR+ 116 panels. The exceptional energy output of these panels allowed us to keep the array small, and the proportions of the"T-top" pleasing. The team at Ocean Planet Energy skillfully negotiated special permission from Torqeedo for solar charging this system, and delivered custom Genasun controllers to power it up in time for launch day.
As a platform for the latest electric propulsion system, AUK has lot to offer. With her plumb bow she has a long waterline for her size which makes for better performance at lower speeds. When speed is a must she planes easily with her shallow V back aft. In general the historically inspired design represents a measure of balance that is often missing in the inefficient overpowered "clorox bottles" that populate most of our harbors in 2020.
AUK's aesthetic is also derived from a carefully struck balance. Her vernacular Chesapeake work boat roots mingle with a modern minimalism that modestly references the technology driving her. It is truly fun to watch her underway and consider how her far flung elements emulsify into something altogether new.
But the fun of watching her is nothing compared with the thrill of being aboard. As you cast off and navigate the harbor the silence slowly dawns on you. After a few minutes underway you will begin to understand that this isn't just a new kind of boat, it's a new kind of boating! One where we've regained our senses, where we can enjoy the moment not just the destination, where we can appreciate the world around us without actively degrading it. Here's to the future of electric boating!
— Ellery Brown, October 2020
For details on this design or to order plans, please visit our Point Comfort 23 page. 
A video of AUK's first sea trial is also available on Facebook here (our chase boat outboard is making quite a bit of noise in the background): AUK Sea Trial Video