Recent Projects & Design Highlights
HUNNY – 43′ Robert "Chummy" Rich downeast cruiser, rebuilt 2021 by Hylan and Brown.
In the fall of 2020 we brought a 1976 43' Chummy Rich Downeast cruiser called HUNNY (ex SEA STAR) into the main shop. The boat was purchased with a low hour/ well maintained 370 HP Yanmar engine after a thorough survey by Tom Adams of Maine Design Company. Before long we had her stripped down to a bare hull and Doug was enlisted for designing all new superstructure and accommodations, while Ellery and Don Eley set about planning a cutting edge electrical system and Matt and Kit began making structural repairs and improvements to the hull.
Due to unforeseen circumstances HUNNY is now for sale with approximately 3/4 of her refit accomplished .  This is a unique opportunity to purchase a classic liveaboard cruiser in the late stages of a complete systems, superstructure and accomodations rebuild.  Every system aside from the main engine is brand new and state of the art, (see list below).  At this asking price HUNNY is a rare value approaching $0.50 on the dollar.  At this stage of of the project much of the work is completed, but an experienced and knowledgeable owner would still have the opportunity to customize some of the layout and style of the interior without setting the project back.
For full details, please visit HUNNY on our brokerage page.
---
SCOUT – 43′ Reuel Parker Cruiser
SCOUT's owner came to us with a custom design in hand from Reuel Parker for a 43', shoal draft, outboard-powered coastal cruiser, to be built efficiently and with uncompromising quality. An avid cruiser, SCOUT's owner required the speed, comfort, range and reliability to enjoy everything from the Bahamas to the coast of Maine, and even the Great Lakes. Visit SCOUT – 43′ Cruiser for more details on this comfortable, efficient, shoal-draft cruiser.
---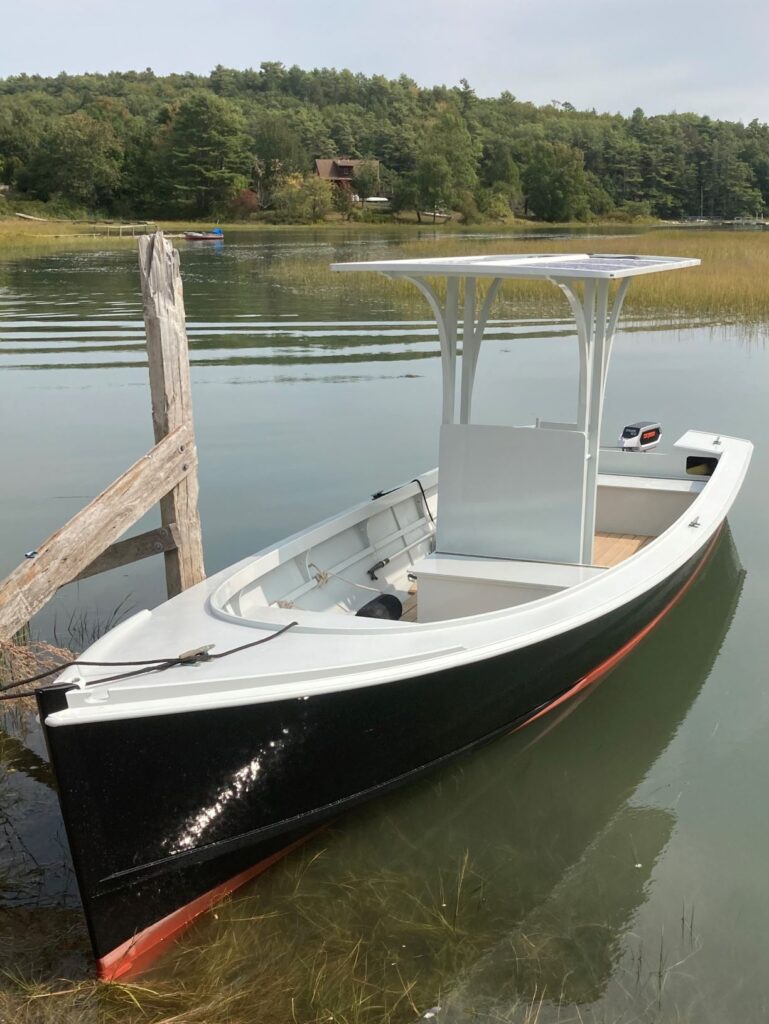 Launched in summer 2020, AUK is a Doug Hylan Point Comfort 23 hull optimized for modern electric propulsion, powered by a Torqeedo Cruise 10.0 motor, and featuring a custom "t-top" supporting a high-efficiency solar array. Visit AUK – PC23 Electric for details on this exciting project!
---
A kit is now available for OONAGH, the anti-RIB. The 11'8″ OONAGH is my attempt to combine some of the best qualities of inflatables with the advantages of a traditional dinghy.
---
We are thrilled to introduce you to our newest design/build GATSBY! We've got lots of photos and info about her at the web site, plus you can click here to see a video of her at our Facebook page.
[More GATSBY…]
---
Announcement
I am pleased to announce that D. N. Hylan & Associates Inc. has become Hylan & Brown – Boatbuilders. It was in our winter 2012 newsletter that Doug announced that he had brought me on as partner. Since that time my responsibilities as well as my ownership of the company have grown to the point that Doug thought we ought to put my name on the shingle too. I'm honored to be associated with all the great work that Doug and this shop have turned out over the past 20 years. I look forward to continuing and building upon the great reputation for quality, honesty and creativity that Doug has worked so hard to build. — Ellery Brown
Please also see our Facebook page for the latest news and photos.