An evolution of the 29′ Beals Island lobster boat DIANA
D'ANNA is an evolution of the Beals Island lobster boat, DIANA, which we restored in 2002. On re-launching, that boat was christened DIANA after the wife of her long time owner, Beals Island fisherman, historian and raconteur Avery Kelley. This modified design is named after Avery and Diana's daughter, D'Anna.
Maine lobstermen like to have their engines fairly far forward in the boat, in order to make more room in the cockpit for working their traps. Typically, they do not carry much fuel, often topping up when they deliver their catch at the end of each day. This means that a true lobster boat hull is designed to carry its displacement relatively far forward. D'ANNA's lines have been modified to move her center of buoyancy slightly aft, to allow her engine to be mounted further aft and permit a somewhat larger fuel tank under the aft deck.
Other modifications include a slight increase in length to 30′ and a beam increase to 8′ 6", the legal trailering limit without permit. At this beam she is proportionately wider than her mother, but still narrow by today's standards, allowing for easier powering above theoretical hull speed. The freeboard has also been raised slightly, and the transom is proportionately wider. The extra size allows a self bailing cockpit. Is spite of her extra size, D'ANNA is slightly lighter than her mother, due to her glued construction. A speed of 14 knots is available with her 75hp inboard diesel.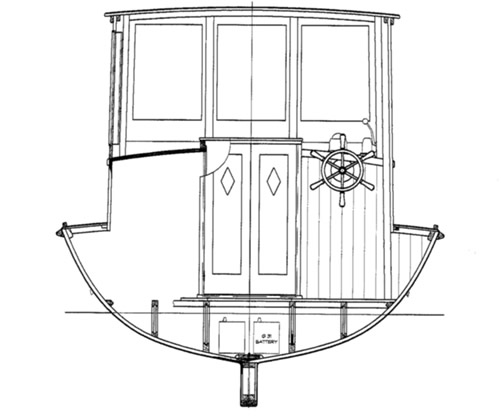 While DIANA's plans were for traditional plank on frame, these plans show cold molded construction. However, there is no reason why either boat cannot be built by either method. Please contact me if you are interested in alternative construction.
The full plans consist of four sheets: Lines Plan, Outboard Profile & Deck Plan, Inboard Profile & Framing Plan, and Construction Sections & Details. Also included is a CD with hull offsets, construction and finished photos of a similar boat, and other various and possibly helpful information.
We recently launched a cold-molded version of DIANA called BRENDA KAY, which is an intermediate design between DIANA and her daughter D'ANNA. BRENDA KAY has the extra beam and cold molded construction of the new design, with the 28′ 8" length of the mother.
PARTICULARS
LOA – 30′
LWL – 28'9″
BEAM – 8'6″
DRAFT – 2′ 6″
DISPLACEMENT – 6300 lb.
HULL TYPE – Beals Island skeg type lobster boat
CONSTRUCTION – Cold molded wood
SUITABLE FOR – Somewhat protected waters.
TRAILERABLE – With a heavy duty towing rig
PROPULSION – 75 hp inboard diesel
SPEED – Up to 14 knots with above engine
SKILL REQUIRED – Advanced
LOFTING REQUIRED – Hull lines are computer faired, CNC mold files
available at extra cost and with restrictions.
STUDY PLANS
Click to download free study plans in PDF format.
PLANS
PLANS SHEETS – 4 sheets plus Compact Disc with photos and other info.
PLANS DETAIL – Above average

TO ORDER PLANS:
To order online using Paypal's ordering system (which accepts Visa/MC/AmEx/Discover/eCheck/PayPal), please select one of the following buttons:

You can see your Paypal Cart at any time by clicking the button below:

You can also order plans by sending a check or money order to Hylan & Brown – Boatbuilders, 10 Frank Day Ln, Brooklin, ME 04616
Many questions are answered in Frequently Asked Questions. Please check there first.