A fast and stable boat that can carry a real load
Based on traditional crabbing skiff documentation by Howard Chapelle, this has proven to be a fast and stable boat that can carry a real load. While primarily a sailing skiff, she is reasonably handy under oars and easily driven with a tiny outboard. She also displays good manners when towed.
As Mike O'Brien said in his WoodenBoat design review, "Doug Hylan has drawn a striking skiff that looks sharp in any company." Plans are on four sheets: Lines and offsets, construction, leg o' mutton sail plan and sprit sail plan.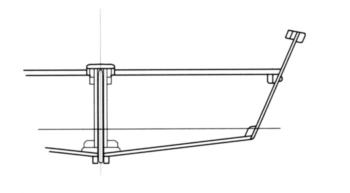 Traditional detailing is combined with easy maintenance and simple plywood construction.
Click here to see some photos of the prototype under sail.
PARTICULARS
LOA – 15′ 4″
BEAM – 4′ 8″
DRAFT, board up – 10″
DRAFT, board down – 2′ 5″
WEIGHT – approx. 250 lb.
HULL TYPE – deadrise
CONSTRUCTION – plywood
SUITABLE FOR – Somewhat protected waters.
TRAILERABLE – Yes
PROPULSION – 2 to 3 hp outboard (or small electric)
SPEED – Up to 6 kt.
SKILL REQUIRED – Beginner to Intermediate
LOFTING REQUIRED – No, full-size patterns included.
OTHER REFERENCES – Design review by Mike O'Brien, WoodenBoat #157:74
STUDY PLANS
Click here to download free study plans in PDF format.
PLANS
PLANS SHEETS – 7 sheets–lines, construction, sprit rig, leg-o-mutton rig, setup jig, full-size patterns.
PLANS DETAIL – Above Average
PLANS COST – $150.00 plus S & H
TO PURCHASE PLANS –
To order online using Paypal's ordering system (which accepts Visa/MC/AmEx/Discover/eCheck/PayPal), please select one of the buttons below:



You can see your Paypal Cart at any time by clicking the button below:

You can also send check or money order to Hylan & Brown – Boatbuilders, 10 Frank Day Ln, Brooklin, ME 04616.
Many questions are answered in Frequently Asked Questions. Please check there first.