What's New
Boat Show
We will be attending the Maine Boats, Homes and Harbors Show in Rockland ME this Aug 14-16, 2015. We hope you'll come by to  say hello and see our latest build, the 26ft V-Bottom raised deck weekend cruiser SKYE.
BERET is another in my "Hat" series – a line of powerboats that, for unfathomable reasons, are named after hats. All of these boats have chine hulls and are largely built using plywood.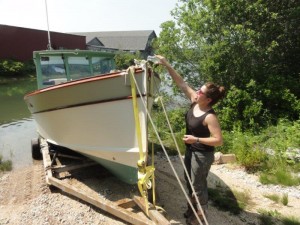 We recently launched two boats: the 16′ COQUINA and 26′ SKYE. They'll be heading shortly to Texas and Rockland, Maine, respectively.


See Maine Boats, Homes and Harbors 133 for a nice writeup on BAGATELLE.
The Joy of Having a Boat Built: An Outboard Cruiser Takes Shape (video preview of BAGATELLE from offcenterharbor.com)
Please also see our  Facebook page for the latest news and photos.