DOUG HYLAN — Doug Hylan built his first boat at age 14: a disastrous catamaran with a propensity to bury her lee hull before realizing any adolescent-appropriate speeds. After a decade or so of dabbling in more or less respectable professions, he relapsed into boatbuilding, first working with Jim Steele and Joel White, then going off on his own. He is currently CEO and janitor at D. N. Hylan & Associates in Brooklin, Maine, a boatyard that specializes in the design, building, and restoration of wooden boats. (Photo courtesy Maynard Bray)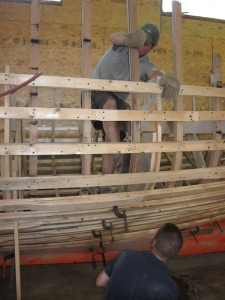 ELLERY BROWN — Since joining Doug as partner in 2011, Ellery has managed the construction and restoration of numerous power and sailboats in the Hylan shop.  He is a graduate of Bates College and The Apprenticeshop in Maine.  With a 50-Ton Captain's Licence, he has delivered customer boats throughout the Northeast.
MATT ELLWELL — A boatbuilder for over 20 years, Matt has built, powered, plumbed, wired, repaired, restored, rigged, faired, and finished numerous boats both large and small.  He and Ellery are shown here steam-bending frames for DELIVERANCE.
KIT MACCHI — A graduate of Reed and The Apprenticeshop, Kit has been a boat carpenter at Hylan's since 2014.  She is currently restoring a 1964 plank-on-frame King's Cruiser, and on Saturdays you can catch her show on WERU radio.
Site designed and implemented by Daniel Gonneau.